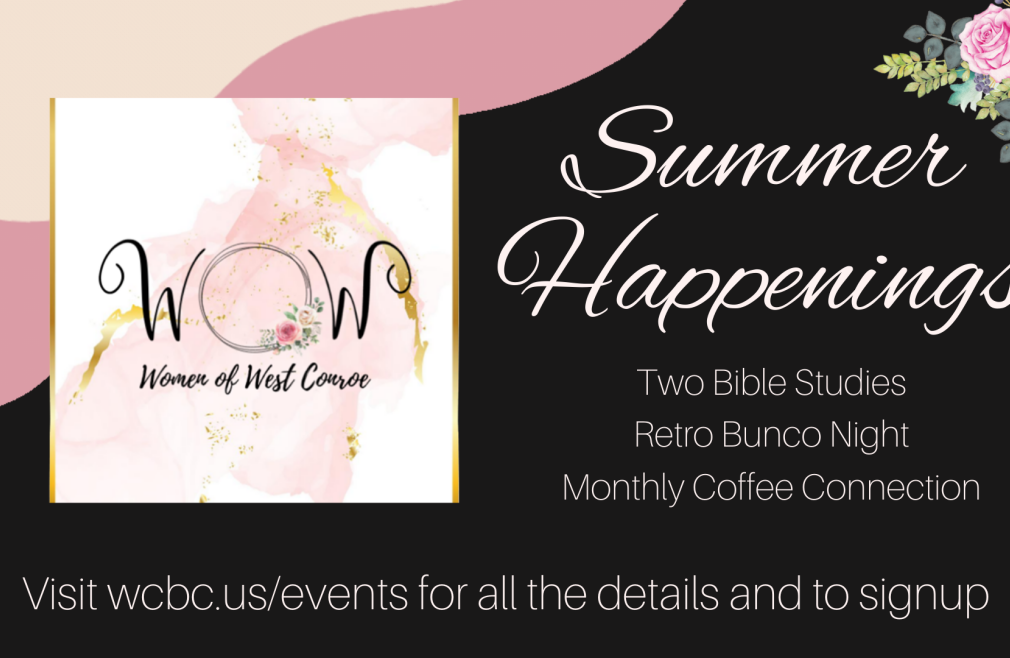 Wednesday, June 01, 2022 - Wednesday, June 22, 2022
WOW has lots of opportunities this summer.
Summer Bible Studies
"Revealing Revelation" will meet twice on Tuesdays beginning June 14. Times are 10:00 am - 12:00 pm (childcare not available) and 6:30 pm - 8:30 pm (childcare available by emailing ). The classes will meet in Room 219B. Cost is $10. Email Tammy at to register.
"What's It Like to Be Married to Me?" will meet on Tuesdays from 6:30-8:30 pm beginning June 14. We will meet at Tammy Shields' home. Class is limited to 10 ladies. Cost is $10. Email Tammy at to register. Childcare is available on campus by emailing
Coffee Connection
Join us for our monthly coffee connection on Wednesday, June 1. You have 2 opportunities to attend. 9:30 am at Panera Bread (1502 W. Davis Street) and 6:00 pm at Baker's Bouquet (806 N Loop 336 W). This is a great time of fellowship and an opportunity to invite a friend or neighbor.
Retro Bunco
On Friday, June 17 at 6:30 pm in the Garden Room, enjoy a retro-themed night out with friends. We'll play Bunco and celebrate the decades each of us hail from. Come dressed in clothes from your decade. Sign up to save your place at the game tables. Then , if you wish to bring a refreshment, sign up under your decade. Here is the link to sign up. https://www.signupgenius.com/go/10c0d49a8ac28a3f5c16-retro
If you have any questions, call Tammy at 936-522-9653 or email at