Coronavirus Updates
God is our refuge and strength, a very present help in trouble. Therefore we will not fear, though the earth should change and though the mountains slip into the heart of the sea; though its waters roar and foam, though the mountains quake at its swelling pride. Psalm 46: 1-3
updated: February 8 @ 3:00PM
Dear Church Family, Please see the below information about our church reopening plans.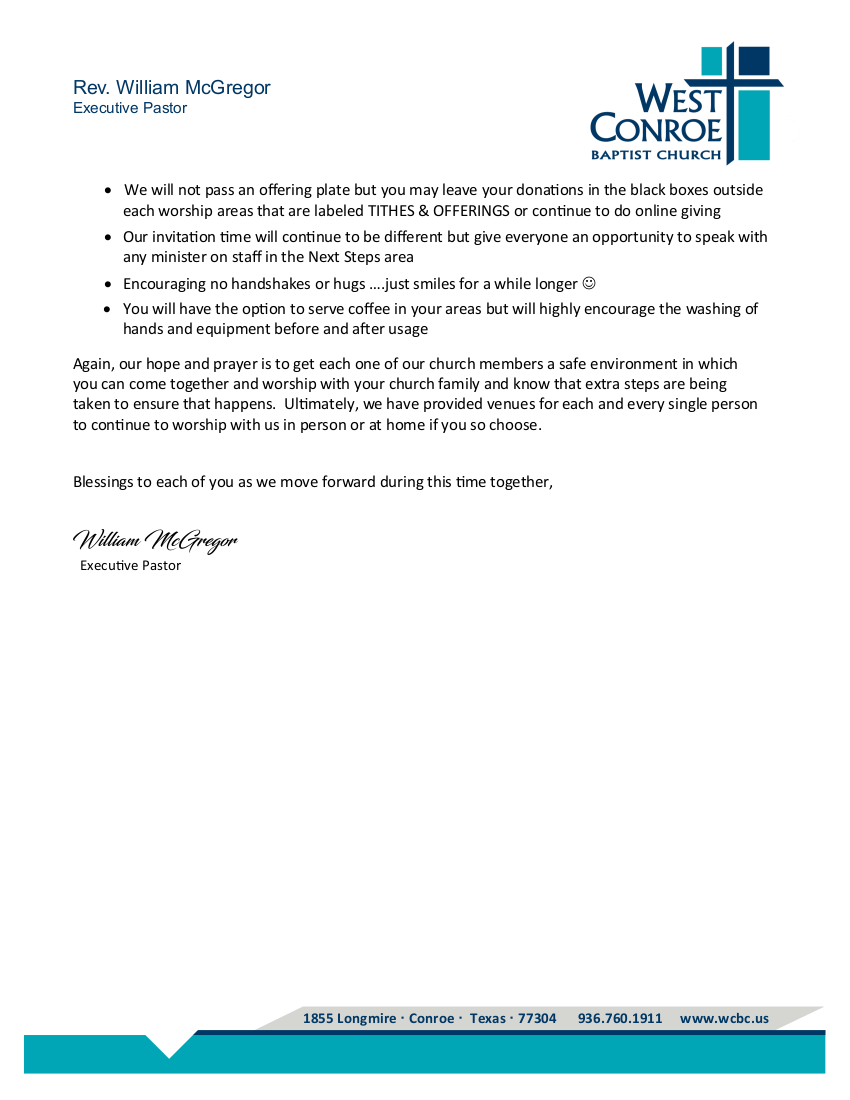 For any questions regarding events happening at West Conroe this Summer visit our Summer FAQ page by clicking HERE!
West Conroe Baptist Church is staying up-to-date with the progress of COVID-19 across our city. We are doing everything to keep our church family together and connected.
We are listening to what the local and national authorities advise as we determine any necessary response as a church. Please read ahead for additional information about how our church is responding and what you can do to remain actively engaged with West Conroe.
All Montgomery County Hospitals are now at Level 1.
WHAT WE ARE DOING
1. Hand Sanitizer: Countertop supplies or wall-mounted is available at our campus. According to the CDC, washing your hands often with soap and water for at least 20 seconds is one of the best precautions you can take to prevent the spread of the virus. When hand washing is not possible, alcohol-based hand sanitizers are a recommended alternative.
2. DTK Cleaning Services: Our contracted provider of cleaning and other facility services is equipped to assist us in response to COVID-19.
Here are some things you can do to keep yourself and others safe, and to remain engaged with your West Conroe family:
Follow these guidelines for keeping yourself and others healthy:
Wash your hands regularly
Cough or sneeze in the bend of your elbow
Eat healthy and drink lots of fluids
Do not go to work, school, or church if you are sick
WATCH ONLINE
Gather with Dr. Gross and the West Conroe family online on Sunday's 10am via YouTube or Facebook.
GIVE ONLINE
We've provided an easy and secure way of Giving through
SecureGive
. Other ways that you can Give are by dropping off your gift at the front office, you can TEXT TO GIVE at 855-982-2888, or use your online banking bill pay.
PRAYER
Please join our Pastor, Dr. Jay Gross along with our church staff as we pray for those who are impacted by or confronting the virus - patients, families, healthcare workers, authorities - and for God's protection over all of us as a church body.
If you or a loved one has been impacted by the coronavirus outbreak - illness, job loss, etc. - feel free to request prayer here or text 936-520-1240, from our dedicated team of staff members.
The CDC is the primary source for information and updates on COVID-19. Here are just a few of the helpful links found on their website:
KEEP CHECKING IN ON OUR SOCIAL MEDIA CHANNELS FOR MORE INFORMATION AND UPDATES.